I came across on article I wrote years back for another site. I am sharing it here because it revived me for this year's goal planning session, which takes place tomorrow for our family. I forgot that back in 2012, we used to do our goals at the beginning of each year, as it's been YEARS that we've done that at the end of the previous year. For a more detailed look at how I go about goals now, see an overview from last year's session complete an inside look into my vision book, which has changed a little throughout this year.
What Do You Want to Accomplish This Year?
The new year is under way. A year of new beginnings, new possibilities, new friendships, new journeys, new ideas. You have probably begun working on your second set of resolutions (as you realized going to the gym 25 hours a day wouldn't help you lose or gain the weight you originally desired!) and goals (since you realized that writing the next best seller when you don't like sitting still for three minutes is probably not going to happen this year!). As you think about those resolutions or goals, have you considered the big picture? What is it that you want to accomplish this year?
STEP ONE: Define Your Goals
To create a personal vision for the year, I recommend first identifying your specific goals for the year in each area of your life: Physical, Emotional, Mental, and Spiritual. Ensure the goals are SMART (Specific, Measurable, Achievable, Realistic, and Time-Specific). Some goals will take all year, others will take a defined period of time. Don't stress yourself while making the goals but try to be specific as possible.
To help you understand this part a bit better, I will share my goals for this year. You will notice that some are SMART and others are bigger picture, but all provide me with something to measure progress against, which really is the key, as I will be following up on my progress every quarter.
Physical
Drink at least 8 glasses of water a day.
Hike at least once a month for more than 5 miles.
Lose 60 pounds by eating healthier foods and doing strength training and cardio training at least 3 times a week.
Emotional
Write in journal for at least 5 minutes a day.
Write at least 10 things I am thankful for each day.
Develop stronger friendships with people who have similar passions.
Mental
Read at least 10 fiction and 10 non-fiction books this year.
Take time out for me at least once a month on a Friday evening (hike, write, go to poetry reading, sit and listen to music…but do something without family).
Spiritual
Read Bible for at least 30 minutes daily.
Learn to trust God fully in ALL things. Let go of control in many areas.
I also add a fifth area so I can measure those goals. Some may put this in with other areas, but I like to keep it separate.
Parenting
Read 1 new book each night with daughter.
Spend 1 hour, 2 times a week practicing learning and leadership skills.
Go to at least 1 playground or state park each month.
Notice that some goals are very specific (1 new book each week) and others are less specific (10 non-fiction and 10 fiction books this year) and others are still very broad (develop stronger friendships). Do what works for you, but get it in writing and then hang them where you can see them daily. I make mine into a cross-like picture and hang them on the wall in my dining room so I and others who visit my home can see them easily.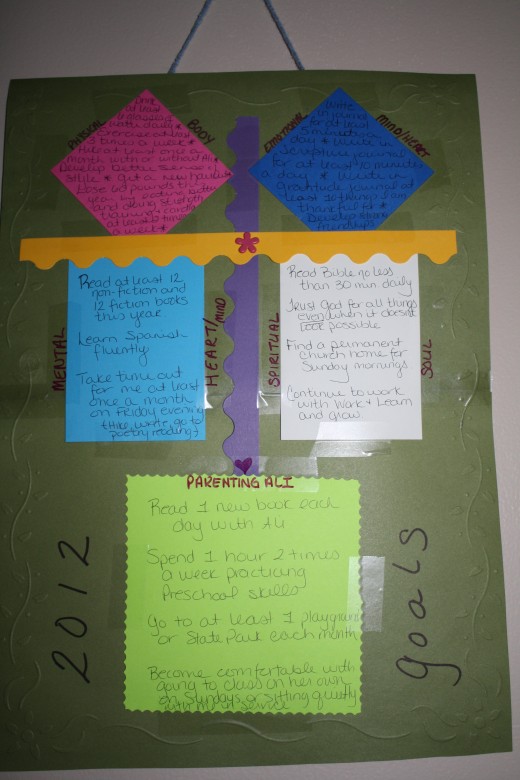 STEP TWO: Create a Vision Collage
Next to having a clearly defined path for the year, the best part of ensuring you have a personal vision for each year is the fun in creating a vision collage. Once you have identified your goals in each area of your life, search through magazines, the Internet, and other media to clip pictures that can visualize the words you just wrote. With a vision collage, you may even add some other elements that are overarching themes. For example, the overarching themes for my life this year are "New Beginnings" and "Living My Best Life". I want to be all that God wants me to be this year. I don't want to hold back because I worry if people think I am a freak or have "gone too far". Instead I want to reach my destiny and be on the path that provides the best opportunities to affect my community and world. Therefore, when I created my vision collage, I also clipped words such as "Changing a City" and "True Calling". I entered elements of character that I want to exhibit this year, such as happiness, growth, open heart, a quiet mind. You will get the hang of it as you look through the media and get excited about the chance to create a visual for your vision this year!
Once you have clipped several words and pictures that you feel represent your vision for the year, find a large sheet of cardboard, two pieces of construction paper, or any other paper that is large enough to house your visuals. Be creative and let yourself enjoy this time. Use scrap-booking elements, have fun, remember the days in elementary school when you were able to get glue everywhere and just smile while creating art! When you are done, hang it up where you can see it daily. (See below for my final product.)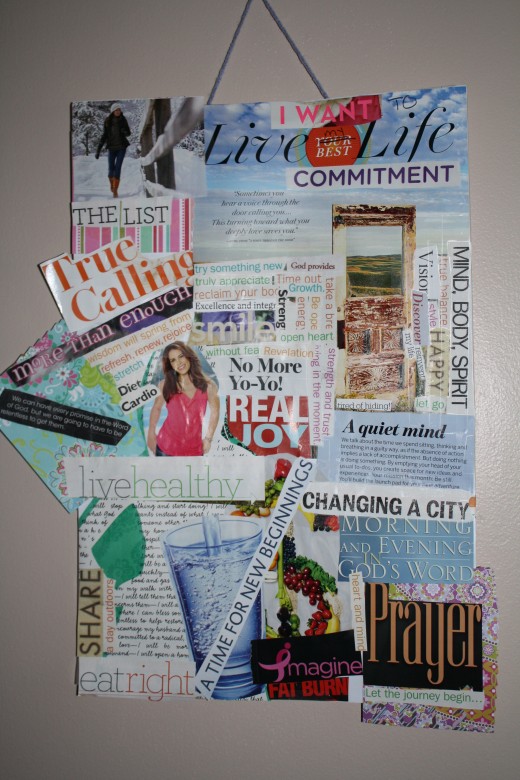 STEP THREE: Defining Your Word For The Year
Recently at a Toastmasters meeting, a guest shared that instead of goals or resolutions, she uses words for the year. For step three, take a moment to look at your finished products for your goals and your vision collage. What word continues to pop out? What does your theme for the year suggest, if you noticed one? For mine, you will notice "Development". I am trying to develop discipline, friendships, communication skills, parenting abilities, a better worldview. As such, my word for the year is "Development". What's yours? Repeat it to yourself daily (especially if the word helps you get through the mundane tasks you have to do!).
STEP FOUR: Pull It All Together
You have now defined your goals for the year, visualized them by putting words and pictures on a collage that you have hanging near your goals, and defined word for the year. Now what? How does this help you create a personal vision? How do you take these art projects and word of the day exercises and turn them into a tangible strategy that will help you become successful?
Make Daily Decisions Aligned With Your Goals and Vision
As you approach each day, think of your life's vision, consider your goals, and make decisions based upon these factors. If your vision is to be the best you there is and to change the city while being such, you won't be as likely to spend the day at the all-you-can-eat Chinese buffet down the street. If your vision is to change your internal thinking and become a woman or man of great confidence, you will be less likely to continue to engage in relationships that damage your self-confidence, your reputation, or your heart. If your vision is to change your city by ridding it of domestic violence and one of your goals is to educate children about great relationships, you will be less likely to continue to allow others to infiltrate your boundaries. It is important to consider each day where you are going so you will know what steps to take to get there as well as so you don't veer from your path.
Review Your Progress At Least Quarterly
The little things are sometimes hard to analyze. We beat ourselves up for drinking two sodas when we really didn't need any. We get upset that we gave up on our hour run after only three minutes (maybe this is just me?). We hold others at fault because they didn't call us when we haven't bothered to email them or reach out to them either. To look at your progress, you have to consider daily triumphs and failures to a point, but the real analysis comes after a quarter. If you are losing weight, daily pounds are great…however, the 4 to 8 you see at the end of the month becomes 13 – 26 at the end of a quarter (13 weeks folks). Take time every quarter to see how you are doing overall.
Make Adjustments as Life Changes
When you review yourself quarterly, you may find that some things have changed in your life. If you were aiming to be the best Administrative Assistant possible and you received a promotion to Business Analyst, you certainly need to change your aspiration! If you were a marathon runner and injured your ankle, you should change your exercise goals. If you were a parent of a preschooler who became a kindergartener, some of the things you work on with the child may change. Remember the vision is the overall place you want to get to, and your goals are able to change to meet that vision. Sometimes your vision may change as you develop throughout the year – don't feel that you can't expand or decrease your vision based upon your life changes.
Tell Others!
Share your feedback on how you felt while creating your vision for the year! Post a hub sharing your goals and leave feedback with the link so we can visit you and pray that you will accomplish all your heart desires! Show us your final products! We are a community here to support you and look forward to everyone being successful this year in their journey!
Have Fun!
We only live once! Enjoy every day. Have fun meeting your goals. If you want to lose weight and change a city – start a walking club. Who knows…you may find some great friends in the progress. If you have wanted to change your career and develop your artistic talents, start frequenting your local art galleries and meet artists in the area. Have fun and enjoy this journey you are on!